Eastward Ho
On the Road 1 - I Made It
On the Road 2 - East Coast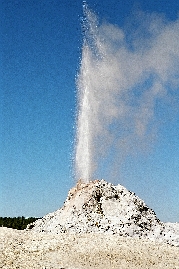 White Dome Geyser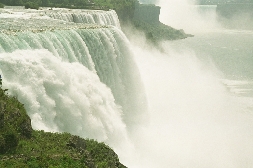 Niagara Falls

This past summer (1999) I was blessed with the honor of being asked to be the godfather for my newest niece (4 and counting) by her parents, my brother Ken and sister-in-law Mary. I was truly touched by their request. Of course I said yes. Now, how was I going to work this? Fly? How much and how long should I stay? You know, I had been toying with the idea of taking an extended vacation so that I could visit my brother Tim and awesome girlfriend Janell at their mountain top in the central part of New York. So that means I would have to rent a car and take at least 2 weeks... but I haven't been to Glacier NP for 18 years, so maybe... maybe if I drove... and took, oh I don't know 3-4 weeks. Hmmmm. Well... Hmmmm. Yeah! That's what I'll do! Drive on!
So I packed up the Explorer (and I do mean packed!) and took off for a little jaunt across the US and Canada to stand in as Olivia Jane's godfather, visit a slice of paradise in Central NY, battle stormy weather across the northern tier, and gaze in stupefied awe at some of the most spectacular natural splendor, both grand and small, that the Good Lord has seen fit to grace us with.
While traveling, I wrote down my impressions and experiences and when possible emailed them to friends and family. Relive the trip by reading of my adventures again, or if I inadvertently left you off the original distribution, come join me as I wend my way from LA to the East Coast, up to NY and Canada, across the northern plains to Glacier, down to Yellowstone and southern Idaho, ending up in Las Vegas in a 3 room suite and volleyball tournament. Visit the gallery of pictures to get a very faint sense of what my eyes beheld.
Come, the journey begins... Begin Journey